From the heart of the Northern Beaches…
Just laugh, play, kiss, hug and have fun.
Leave the rest to me.
Kind words from my beautiful clients 
I was so excited to have some updated photos done of my girls and I with Ali- although we were all a little nervous too. There was absolutely no need to be worried - Ali made us all feel at ease - even the stubborn, cheeky 5 year old who ended up swimming in the lake.

Aura Brooks

Avalon
We absolutely love the family photos we had with Alice! She captured such beautiful family moments during our session that we will treasure. Alice is such a lovely and friendly person, and she will put you right at ease to capture some delightful photographs for you and family.

Eve Crawford

Beacon Hill
Alice is an absolutely amazing photographer. She made my little boy so comfortable during the entire photoshoot that he was excited to pose for the camera! She was very easy to deal with and very responsive and accommodating.

Jackie Graham

Manly
My husband and I had the most magical experience with Ali as she captured us for our maternity shoot. We were both a little nervous beforehand but the nerves melted away as Ali was so friendly, respectful and above all very professional. We had so much fun!

Kayne Reid

Curl Curl
Newborn
Having a newborn baby is such an emotional, spiritual and significant time in any parents life. It's crazy how fast they grow. Let's capture those precious little feet and those tiny little fingers in a natural and relaxed session that is full of love with a timeless collection of images – without the need for complicated costumes and props.
Maternity
Being a mother myself and seeing how amazing the female body can be during pregnancy is one of those memories that I feel should be cherished forever. I aim to encapsulate the strength and beauty of your beautiful growing belly so you will always have a reminder of the bond you and your baby always shared together.
https://www.youtube.com/watch?v=yF9dNN4Ze4o
My photography sessions are very relaxed, stress free and casual.
I enjoy a more natural and candid approach to capturing the connection and bond between your family. I use the natural golden hour light of the outdoors the beautiful Northern Beaches offers or the comfort of your own home. Let me help you tick the family photoshoot off the to do list all while capturing some beautiful memories.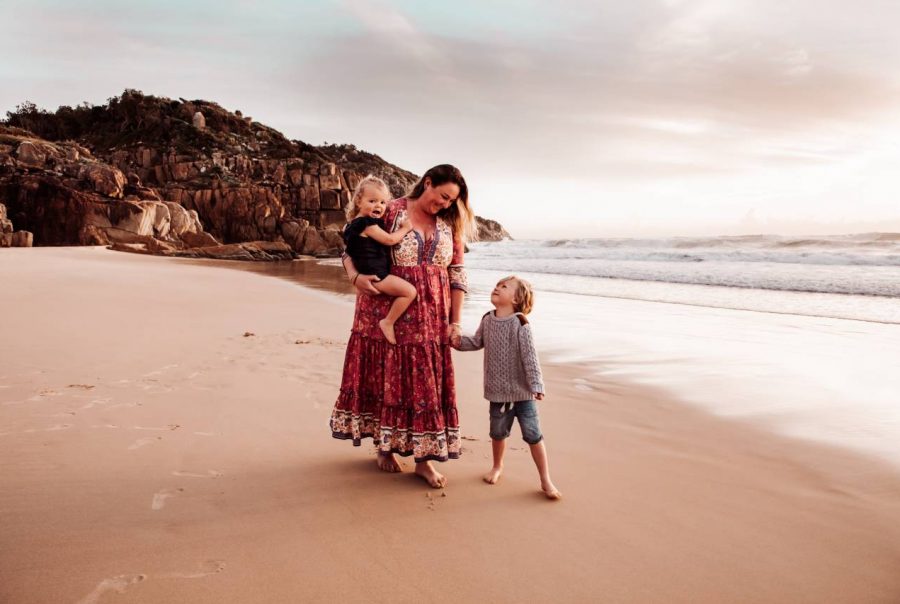 Best known to many as 'the one with a camera permanently in her hand'. Since a very young age, I have had an extensive Interest in photography. From kodak disposable cameras as a young child, to my Canon DSLR as an adult. I have always been able to find a way to capture the raw, candid and organic moments in life.
I like to find the natural beauty in everything I see, whether it be a sunrise, the ocean, pure family moments, candid street photography, a mother's love, or a grandma's touch.
I have travelled extensively with my husband and two young children, and along with learning new cultures, living with locals and making friends with the people we meet, we immerse ourselves into their way of life, which makes for honest, raw and emotive storytelling which I love to evoke through my photographs.
My two beautiful children are my inspiration for focusing on the immense love, natural bond and pure perfection of parenthood and capturing those innocent, special moments.
I've photographed many functions, weddings, family events and general candid life moments from both here and around the world along with photographing hundreds of families here on the Northern Beaches. I would love to share my skills and passion for photography to do the same for you. 
Check out my instagram
I'm Sorry, I'm not taking bookings at the moment.
It comes with a very heavy heart that I will be temporarily stepping back from my photography. Unfortunately due to a sudden diagnosis of Cancer, I'll be undergoing intensive treatment over 6 months and will no longer be taking bookings during this time. However, once I kick this in the butt, I'll be back to take photos of you and your beautiful families with more love and energy than ever!
- Ali x
Get notified when i'm back in action...
Follow me on Instagram
Stay up to date with special offers, Mini Sessions, availability and events.